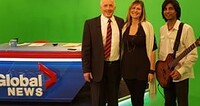 Lea Longo performs on Global TV Montreal
Jazz and mantra singer Lea Longo chats with Richard Dagenais and performs on the Morning News.
Canada's Lea Longo Mantras Mashing with Music on Midwest Beat with Tom Lounges (PBS radio)
"Comment-decrochez-vous-de-votre-quotidien"? – Entrevue avec Marie-Claude Lavallee & Lea Longo
"Comment-decrochez-vous-de-votre-quotidien"? – Entrevue avec Marie-Claude Lavallee & Lea Longo
StrongWriter On the Radio – "Get To Know Lea Longo"
ENTREVUE "Confidences des gens d'ici: Lea Longo "Au RADIO SHALOM
Interview with Kara Johnstad for OM TIMES RADIO
Stations Playing My Music
California
KCHO-KRCB-KZYX-KCPR-KRVR-KKUP- GOTRADIO-KSBR-Celestial Recordings 106.3 The Lounge, Bliss Bubble Radio
Colorado
KVNF-KYGT-KDNK-KYGT-The Global Music Project-Music Beyond Words-102FM West Limerick
Pennsylvania
WYBF-WESS-WXPN-WQLN
New York
WFAS-WHPC-WFIT
Other USA Stations
One World Music-SoultravelerRadio-Rovi Content Acquisition (Ann Arbor, MI) WNMC (MI) WHHB & WERU (ME)- KBAC (NM) AudioCity-Highlander Celtic Radio-WOMR (MA) -KACU (TX) WAWL.org (TN) WFCF (FL)-WVUD (MD)-WCNI, WSHU (CT)-KRCL and KZMU (UT)
KMUN, KEOL,Mainlypiano.com, Talk Radio Network, FAIRRADIO.ORG (OR)
KMXT,KNOM, KBRW, KTOO, KCAW-KUAC (AK) WYSO (OH)-ZONE MUSIC REPORTER -FULL CIRCLE-WHYR- WTUL,(LA)-Astreaux World (TN)- KZUM (NE)-Peaceful Radio- WKNH (NH) WER1Radio (VT)Positive Music Radio (AZ) KMST & KOPN (MO) KMNO & KKCR (HI) WMSE ( WI)
Radio IO & WFCF, WFIT (FL) – Montana Public Radio (MT) -The Global Voice (SK) WLFR (NJ) WMNR (CT)
Radio CLUJ (NAPOCA) Phase Radio Productions (Sydney Australia)
Expat Radio (Singapore) Radio Despi (Barcelona)
Radio Magico Meditation France (PI, France ) Musicas Imaginadas
CKUW ( Winnipeg, MB)
Online Mag "En Bref" Section page 12-13
Moving Towards Bhakti: Q&A w/ Lea Longo
Lea Longo, l'italo-canadese conquistata dal mantra-jazz
Album de maturité pour Léa Longo
Lea dans LA PRESSE Montreal MAY 2013 – Du Mantra au Hip/Hop
Lea Longo -SONGS OF A SIREN Aout 2014 – Lancement de Disque
Article Spotlight LEA LONGO SONGS OF A SIREN – CONSCIOUS MUSIC in OM TIMES MAGAZINE
Music Feature on OM TIMES RADIO.
Festival de Musique et Yoga de Montreal Le Devoir – Juin 2013
SaveSave
SaveSave
SaveSave
SaveSave